---
As the effects of the most severe El Niño in almost 20 years still reverberate globally, parts of the world are already preparing for La Niña.
Indonesia is set to distribute water pumps to farmers and is assessing its rice stockpiles in anticipation of the weather event materializing in October, Agriculture Minister Amran Sulaiman told reporters in Jakarta on Wednesday. La Niña, sometimes thought of as El Niño's opposite, typically brings more rainfall to the region, threatening crops with flooding and delaying harvests. Australia says El Niño has peaked and there's a chance of its counterpart occurring in the second half of the year.
El Niño has hampered cocoa crops in Ivory Coast, curbed the monsoon in India and forced the Philippines to import more rice. Indonesia deployed planes last year for artificial rain to help alleviate drought conditions that restricted palm oil output and exacerbated forest fires that engulfed the region in haze. Based on the 26 El Niño events since 1900, about 50 percent have been followed by a neutral year with 40 percent by La Niña, Australia's weather bureau said Tuesday.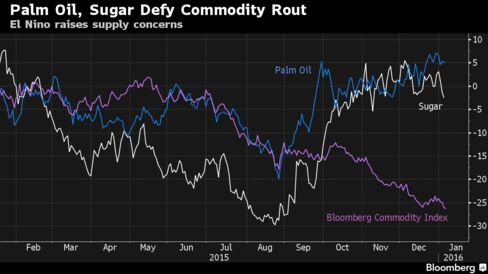 "We'll anticipate early, like we did on drought," Sulaiman said.
Indonesia's palm oil output may stagnate or fall about 3 percent this year, according to Bayu Krisnamurthi, the head of the government-appointed Indonesia Estate Crop Fund for Palmoil. Supply concerns helped palm oil cap its best year since 2010, while sugar posted its first annual gain in five years.
El Niño is a warming in the equatorial Pacific Ocean, while La Niña is a cooling of the waters. Each can impact agricultural markets as farmers contend with too much or too little rain. A large part of the agricultural U.S. tends to dry out during La Niña events, while parts of Australia can be wetter than normal.
The previous La Niña began in 2010 and endured into 2012. Conditions typically last between 9 months and 12 months, while some episodes may persist for as long as two years, according to the National Oceanic and Atmospheric Administration. Both La Niña and El Niño tend to peak during the Northern Hemisphere winter.